Mike Eady is both an accredited motorsport licence examiner and a gifted racing driver with an impressive list of credentials.
He trained at the Winfield Racing Drivers School in France (one of the best!) and has competed in races in England, France, Italy, Australia and Germany.
He's even taken on the notorious German Nurburgring, competing in four 24-hour races. He was placed in the top three in his class in 2000 and won in 2001 and 2002. This feat puts him in the top echelon of New Zealand motor racing drivers.
His racing achievements include…
2nd in the New Zealand Formula Vee Championship, 1993.
Winner New Zealand 1600 Touring Car title, 1998.
Driving for the Nissan Racing New Zealand team at Bathurst, 1998.
3rd in class at Nurburgring, 2000.
Class winner at Nurburgring as a factory driver for Volkswagon, 2001 and 2002.
Competing in the Bathurst 24-hour endurance race, 2003.
Porsche GT3 champion, 2004.
Class winner at Nurburgring in 2006.
Class winner at Nurburgring in 2010.
North Island Endurance champion in a BMW M3 V8, 2011.
Class winner at Phillip Island 6-hour enduro, 2014.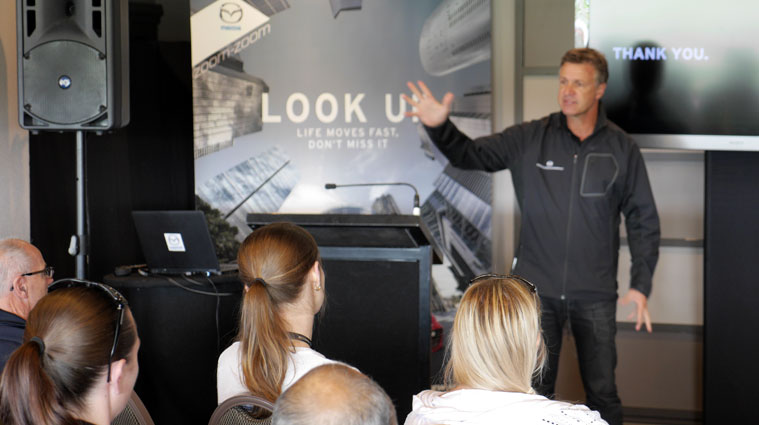 More Qualifications
In January 2006, Mike travelled to Munich for training at the BMW instructor academy.
The programme, consisting of practical instruction and classroom theory, is an extremely rigorous one with exacting standards, and not all get through.
Many experienced participants were surprised at how much the physics section increased their depth of understanding of vehicle handling dynamics.
Mike successfully completed four levels of training and is now a qualified BMW instructor in each of the following:
Compact training
Advanced training
Advanced training M vehicles
Intensive training
Not only did Mike successfully complete the tuition at BMW's instructor academy, he qualified as a Senior BMW Instructor, one of only a handful in the world.
This means that Mike is now qualified to teach BMW instructors in Australia and New Zealand.
Mike has been the chief instructor at Mazda Drive Experience events since 2012.
For lucky kiwi Mazda drivers, that means you receive driver training from one of the best in the business!