Learn to drive New Zealand's premier race tracks. New Zealand Racetrack Manual – the first complete circuit driving guide – is now available for purchase.
Delivered in PDF format for $50 incl GST, the manual is undoubtedly a cheap investment for improved on-track performance. Email Mike Eady to order your copy now »
Craig Baird says, "This is absolutely fantastic. I want every driver in my team to have one of these. I'm going to start using it myself for writing notes on the pages about how I'm driving each circuit… I'm happy to endorse the Racetrack Manual in any way possible."
The New Zealand Racetrack Manual has an emphasis on simple explanations of race lines at all of New Zealand's current race tracks by some of its most successful race drivers.
Instigated by driver training instructor and former champion Mike Eady, the project provides authoritative information to create the "ideal" lap. Using vivid explanations and comprehensive illustrations, the guide covers entry, apex and exit descriptions for every circuit and corner of New Zealand's 6 current permanent venues and was developed to cover drivers at all levels.
"If you can benefit by even one tip then it's a cheap $50," says Eady, who is the first to stick up his hand and say he has learned a few things that only local knowledge could provide. "Even if you pick up half-a-second on a lap somewhere, then it will be well worth the investment."
Mike Eady relates the stories of some of the competitors who have bought and benefitted from his "unfair advantage"…
---
Brock Barrie was a front runner in the North island in his first year of racing Suzuki Swifts but had never been to Timaru International Motor Raceway before the weekend of 29-Feb to 2-Mar 2008. He was 4th quickest in unofficial practice, then bought the Racetrack Manual and read it the night before qualifying. He qualified 4/10 of a second quicker than anyone else to put his car on pole!
---
Steve Taylor, who drives a Honda Civic R in Class B of the production car championship series, also bought and read the manual at Timaru. He then went faster than his previous best and put his car on pole!
---
Blair Thomson drives a Fiat Punto HGT in the production car championship series. He bought and studied the Racetrack Manual at Timaru and went 8/10 of a second faster than he's ever been before!
---
Courtney Letica races in the MINI Challenge series. He had never been to Manfeild in his life before, and didn't even know the direction of the track. Courtney was 13th fastest in unofficial qualifying. He then bought the Racetrack Manual, studied all the lines, and ended up on pole position 8/10 of a second under the lap record!
---
Lyall Williamson from International Motorsport said the manual was fantastic and that every driver in his team has to have one!
---
Delivered in PDF format for the all-inclusive price of $50 including GST, the manual is undoubtedly a cheap investment for improved on-track performance. Email Mike Eady to order your copy now »
An example from within the manual is pictured below… Turn 4, the hairpin, at Pukekohe. Every corner of every current race track is covered in similar detail.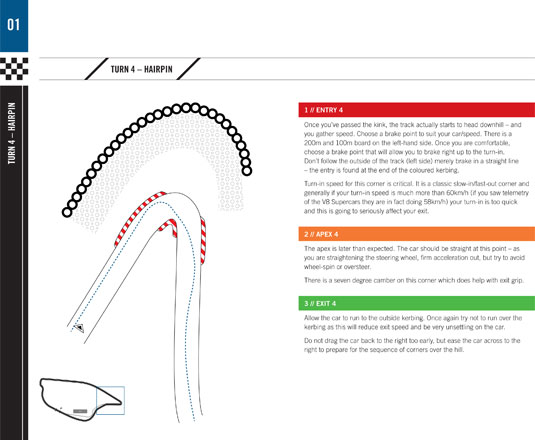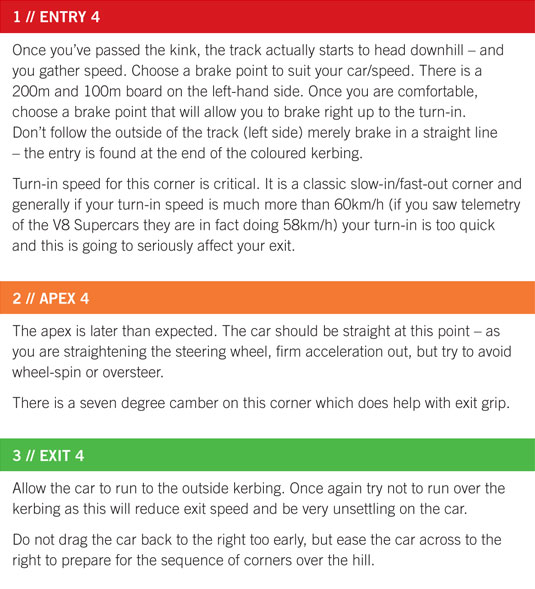 BUY NOW!
The latest edition of the New Zealand Racetrack Manual includes a new Hampton Downs chapter – with more detailed driving tips than ever before – and is now available for download now. Only $50 including GST.
Package: The new Hampton Downs chapter PLUS the original manual covering all the other New Zealand racetracks in PDF format for only $50!
Payment Options:
1. Send cheque to Tracktime Ltd, PO Box 25046, St Heliers, Auckland 1740.
2. Contact Mike Eady with credit card details.
3. Internet banking to Tracktime Ltd, a/c 12-3027-0162871-01
Please use reference "NZRM" and email Mike Eady with details.